What do people and their dogs think of our Get-a-Grip Harnesses and Custom Pet Support Suits? Have a look at our customer comments:
"Thanks, got them yesterday - they look great --- fast delivery, great service and help -- you're the best!!" Jacqui - Connecticut
"You're the BEST. Thank you SO MUCH for Chaos' harness. We BOTH appreciate your attention to detail and the SUPERIOR customer service we experienced from Pet Support Suit. Many, Many Thanks. Have a GREAT weekend." Lisa - Arizona
"Ordered a Get a Grip harness and love it." Eric - Washington
"Dear AST: I wanted to thank you for the wonderful harness / suit you recently sent to me for my dog Bismark out in Canton Massachusetts. I picked him up at the hospital yesterday after his surgery to remove a tumor on his spine. As I live in a condo with 3 flights of stairs, it has been extremely difficult to get him up and down over the last several months.
After trying 2 other back support leashes that are available at pet stores and finding them next to useless, yesterday's ascent up the stairs in the AST support suit was quite wonderful! It's still no cake walk, but what a vast improvement in terms of comfort for the dog along with the ability to grab hold of the handles and assist him up and along! What took us almost 15 minutes in the past took only 5 minutes with the AST suit!
When I picked him up at the hospital, I had the suit with me and discussed it with the neurologist. She was quite impressed with it and in fact took a photo copy of your "how to put it on" manual. Perhaps with the knowledge of this suit, she will be able to make recommendations to other clients down the road who run into similar situations with their dogs. I plan to share your product information with my local vet as well.
Anyway - so far so good. I am so happy to have found your company on the internet. I would be glad to serve as a reference to anyone inquiring as to the benefits and quality of your AST suit.
With my tremendous thanks and wishing you and your company great success," J. David Cooke - Massachusetts

"Sooty's suit arrived yesterday. It fits him perfectly. We are very impressed with the quality and the speedy delivery. Thank you!" Tamami - Australia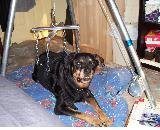 "I love the suit! I think Shi loves it too!...the AST support suit is absolutely wonderful !!! Thank You So Much!" Amy & Shi
"Maynard says thank you . Put his pic on your site if you want.
He's already in a dog bakery commercial here in town.- He's famous.
I just thought since he's so big , it would show people like me
that your harness will fit good. Thanks again," Andy - Indiana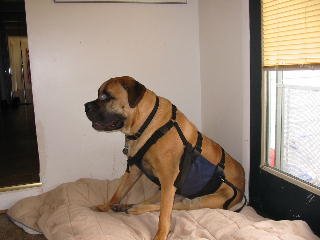 Maynard The Massive Mastiff
"The harness arrived yesterday, and we promptly tested it out. You've done a good job with the design which provides superior support, and the shoulder strap helps in lifting her. Workmanship and design seem exceptional, and we like the yellow color for it's visibility. Again, thank you all for your prompt response to our order and a high quality item. Regards," John, Joy and Sadie - Alabama
"I just rec'd the support suit... SO QUICK!!!! My sister ships her products priority mail too, and it's amazing how fast a package can get to the other side of the country. It's very well made. And I'd like to thank you for all the information and guidance that you've given us. Thanks so much." Lisa - Connecticut
"I just wanted you to know that the suit fits Beau perfectly! Thank you for being understanding and thank God for people like you who care about our four-legged friends. Tony - Vermont

"Just picked it up at the post office ! Boys are at home trying to get it all adjusted :) thankyouthankyouthankyouthankyou," Dianne, Ed, & Loki - Washington
"Thank you for the AST harness--it definitely works well for helping lift Huck's hind end. Also, I can hoist him up stairs and into cars like a suitcase.
(I have started calling him Samsonite.)" Best wishes, David - Massachusetts
"I received it on Friday. It truly is a miracle piece of equipment!!! My initial assessment is outstanding!!! I was able to walk with my dog Jessie with ease. I had no need of crouching to stabilize her and straining my back. Even though she almost lost her balance a couple of times walking; I was able to keep her from falling without any difficulty. I actually got her to walk on her ramp while I walked beside her; something that has been impossible to do. She is 90lbs and I have no help here at home so this really is a lifesaver piece of equipment for me and for her!!! She is 13 with visual difficulties and balance problems. I am trying to just keep her happy and healthy for as long as I can. I work at a School for the Blind and never imagined I would be my dogs sighted guide and would be using specialized equipment for mobility!!!" Thank You sooo much, Madeleine - Ohio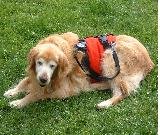 Ohio Jessie

"THANKYOU FOR THE GREAT JOB YOU DID ON DUKE'S SUPPORT SUIT. IT FITS GREAT." NANCY AND DUKE - MA
"I got Clara's suit today! thanks...that is one hell of a harness you've made." Calvin - Maryland

"Just wanted to share with you that I received the support suit for my black lab mix on Monday, 4/14, and it has transformed his life & made ours easier to be able to help him get around. The suit works great, has given my dog, Hooch, confidence when he needs assistance getting up or walking. It has made my life easier because now I can pick him up safely & securely without hurting him from just supporting one end or the other. I can't thank you enough for your product & God bless you for all that you do to help others & their pets with your support suit.. Thanks again," Olive - Maine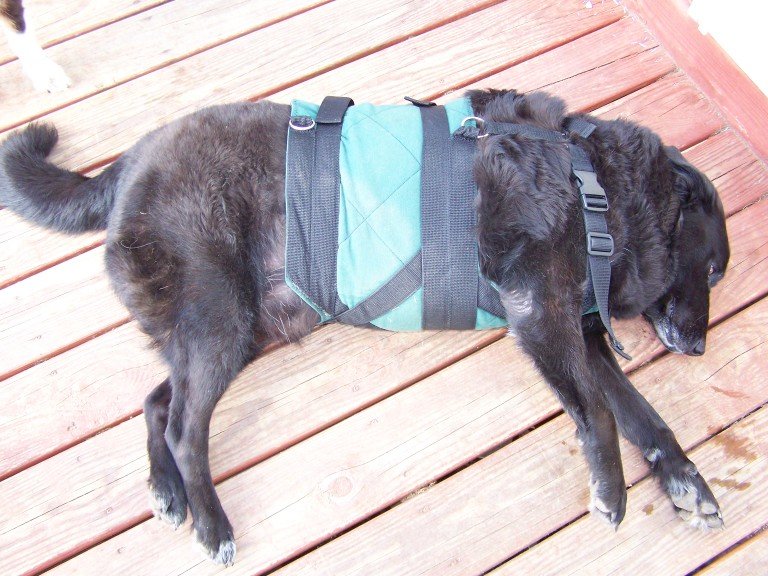 Hooch

One year later, Olive wrote us again:
I just wanted to express our (me & my dog Hooch) thanks for the best idea for pet support. We got one of these a year ago & I tell everyone about the website & how much of a difference this suit has made in our lives. My Hooch is a black lab mix, weighs 90 lbs & is an odd shape. He is loaded with arthritis & last year we thought we would have to make that 'final' decision for him, but with this support harness along with acupuncture, swim therapy, & lots of TLC, he is able to go with us pretty much anywhere, he is more mobile than he was, he has a hard time getting up with his back legs but we just grab him by the strap & help him up, then he is off & sometimes even running. It is so much easier to get him in & out of the vehicle, help him up stairs, or on slippery floors. You have designed a great product that is priceless for what it does for the animal & the owner. Thanks so much & God bless you," -Olive
"I received Beau's suit yesterday morning. I can't thank you enough for shipping it so quickly. It has been a tremendous help. Beau will not give up even though his body is failing him. With this suit I can keep him from falling over. The suit has made a tremendous difference in the time Beau and I have together. You are welcome to quote me. Thanks again." Dorothy Fitch - New York
"Czar's suit arrived today. It is beautiful. Thanks again." Cassandra - Washington
"I wanted to let you know that the suit is great. Jasper is able to take walks about town. It's a real morale booster. Thanks so much." Juli - Washington
"Wow....thank you...the harness worked beautifully to get Zoey down and back up the stairs for her visit to the vet on Saturday. I can't thank you enough!"
Debbie - Illinois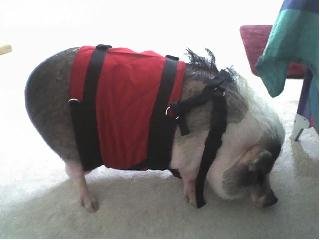 Zoey the Pot Bellied Pig

"Received Molly's harness the day after you mailed it last week and used it this weekend getting her from the deck of our boat into the cabin and back. It worked fabulously! My husband figured out a pulley system for it and it is SO MUCH EASIER on her AND us! He is now figuring out how he'll rig the boom so we can use it to get her on and off the boat in places where we are unable to have her step to the back.
In any case, the "Molly Trolley" is great. I've had other large dogs in the past who could have used this system for medical reasons. I'll do my best for word of mouth advertising for you as I think it is a well thought out and well made functional piece of equipment. Thanks so much," Roxane and Molly
"Just letting you know that we received Fletch's suit and it fits him nicely! :-) Thanks so much!" Angie - Washington
"Hi, Wanted to let you know that channel 4 did a story on our Daisy Mae last night. If you go to their website you can see her video clip.....she is wearing the support suit. I have had 2 calls on where they can purchase one.......they should be contacting you. Thanks." Allicia, Rescue Pup - Washington
"I have an 11 year old German Shepherd who in the last year went blind. Having her run into walls, or get hurt on a walk was becoming a major issue for us. Her support harness has helped us guide her so that she can still enjoy her walks and has allowed us to enjoy the walks as well now that we know she is safe, by our side.
But more importantly it has become a tool for us to help her in and out of our car. Since she can no longer see, her confidence isn't there and it has become quite a chore trying to get her in and out of our car. She weighs 90 lbs. and is not easy to lift. But with the harness, we can assist her where she trusts us not to let her fall and she is more willing to hop in and out of our car - it is a wonderful relief. Thank you for the suit and helping my Maggie girl still have fun in her golden years!" Bill & Susan Baker - Oregon
"Thank you. I am looking forward to carrying it with me on hikes so I do not have to worry about being stranded when my dog's hip goes out." LuAnn - Washington
"I have a support suit for our German Shepherd who has Degenerative Myelopathy and we're very pleased with this harness. Thank you." Terri, VGSR - Virginia
"Came last Monday and is a big help. Apollo still collapses but he is easier to handle with the casing around his body and also easier
to lift. the long strap helps when I have to actually lift him up while holding the straps, such as when we are going up the stairs.
Thank you for the fine product. I hope we get a lot of use from it." Mary - New York
"Thanks SO much for getting the suit out quickly. I truly appreciate it. Best wishes," Barbara - New York
"...I was thinking of contacting you this week to not only let you know that Jessie's Suit is working out Extremely well but to also tell you I think I would like to order a second one. It would be great to have a second one, so I could wash one and have one on her. As I mentioned after we received it, it is exactly what I had in mind and what I was searching for for months. This has been much easier and safer for both of us, plus it does not put undue pressure on her belly and bladder. Again, thank you very much for all your help with your terrific product - it has made a tremendous difference in comfort and safety for both of us! Thanks!" Vikki Childs - Maryland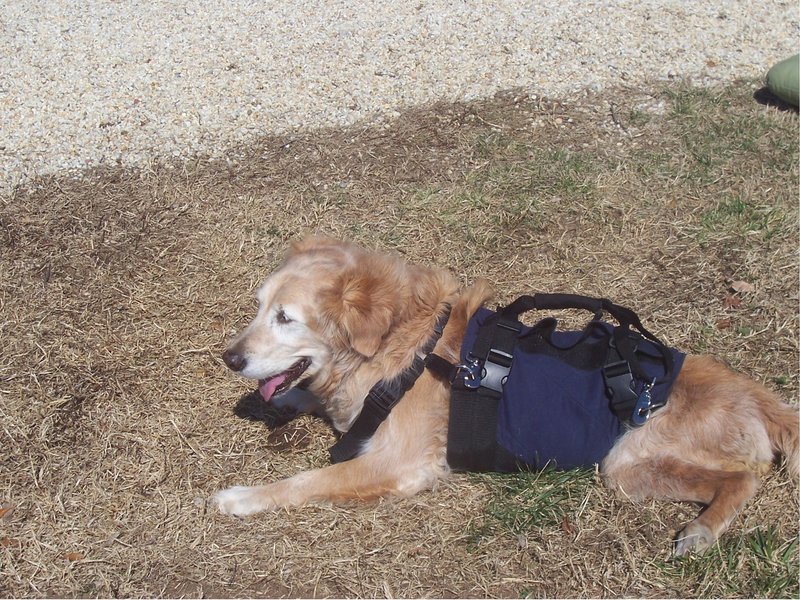 Maryland Jessie

"Thank you so much for rushing the suit to us! We got it today and it is such an essential tool for us right now…The suit works well and is so much easier on my back! Thank you for your kind consideration in making it a priority getting it to us!" Sara - Oregon
"I have told the Surgery Practice where Samson had his surgery about y'all, so they might send some people your way! Thank you again for all your help...and your wonderful product! Thanks!" Melissa - Georgia
"Hello, my name is Jeffrey. I was adopted from Rockin "P" Rescue. They find abandoned and abused boxers from a variety of places. I needed an amputation due to a deformity of my rear leg that rendered it useless. Mom just got me this wonderful harness from Animal Suspension Technology. Mom will take me for a walk in it. I am a Certified Therapy Dog and want to continue to see the adults and especially the kids I have been visiting. Mom will use this to help give my leg a hand getting up from sitting down. Sloppy Boxer kisses from Jeffrey and warm regards from his proud mom," Rose Ann Dean - Alabama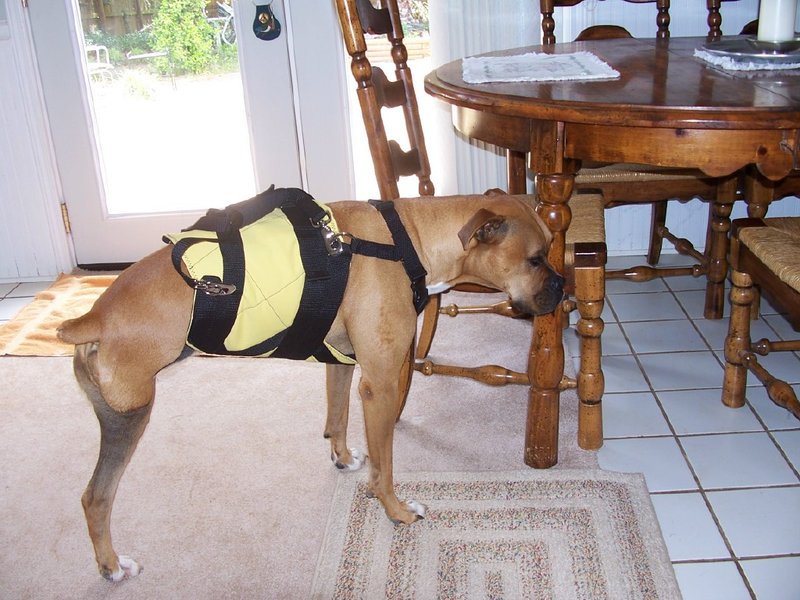 Jeffrey

"Thank you for expediting the arrival of your pet support. It fit Samantha perfectly. She wore it a few days and it helped get her out of the house. I wish I knew of your product sooner it would have made lifting Samantha easier for the past 6 months. Thank you again." Dee - New York
"Here's a picture of our English Mastiff, Balzac, in the support suit after his recent knee surgery. It works great allowing me to control his movement and direction. That control is critical because he weighs 240 pounds and has no idea how strong he is. I would recommend the support suit to anyone whose dog has had knee surgery - it's much better than the conventional sling approach. Thanks again. Bob & Debbie Estey, and Balzac - Maryland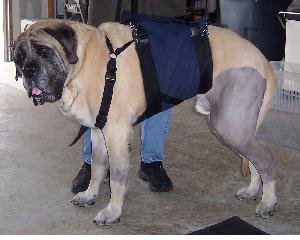 Balzac

"Thank you!!!! We do appreciate the fast service! Thanks again" Pam - Texas
"My husband and I purchased the "Get a Grip" harness last spring when our dog Sadie (Golden Retriever) had what we thought at the time a stroke, upon taking her to the vets we discovered she had vestibular disease. I purchased the harness because with this disease they lose their balance and can not walk straight. Prior to receiving the "Get a Grip" harness we had to carry "Sadie" down the stairs to relieve herself.
Although we were unable to use it as she got her balance back within 10 days, the past few months the "Get a Grip" harness has been a god send. After we saw that she was finding it harder to use her back legs we put the harness on her, not only to help her down the stairs but also to let her know that she had support. Thank you so much for creating such a wonderful product. Sadly yesterday after 14 years and 8 days we had to say goodbye to "Sadie". With the harness it meant we were able to carry her outside not only to relieve herself but to let her enjoy the snow which she loved so much.
We searched the area where we live high and low for a product that has half the use of yours but were unable to. We also did extensive search over the internet and came across your website. With apprehension we purchased your product and have nothing but high praise and thanks to you. We have donated the harness to our vet and hopefully some other family can enjoy the use of such a wonderful, wonderful product.
Yours sincerely" Jim Rose and Debbie Joseph - Ontario, Canada
"It fits (Brodie) very well and I'm so impressed with the quality. I am taking him to the vet tomorrow for a 2 week check-up and will use the suit then as it is quite a distance to walk (on slippery floors too) and he will need the help. Thanks for making such a wonderful product!" Sandy - Washington
Brodie

"Thank you for all your help, you have been exceptionally kind and informative." Judy - Massachusetts
Thank you, thank you, thank you for getting our Support Suit out so fast! Daisy's leg was removed today and we had an opportunity to try it on her and give her some familiarity with it before surgery. Thanks again, it looks like a great product and we will be recommending it. Laurie - California
" A big thank you to everyone at AST. We put Zena in her Support Suit and hooked her to the cherry picker and she was off and almost running!
You've made our Christmas, we hope yours is as special! " Zena J - Oregon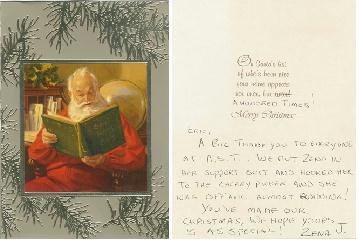 Christmas Card From Zena

All AST Products are made in the City of Subdued Excitement, Bellingham, WA USA.